Yogafilosofi: Bhagavad gita
3 Lördagar 10.30-11.30 med start 12 november introducerar vi studier av indisk filosofi.

I samarbete med Chinmaya Sverige kommer vi att ha en kurs där vi studerar Bhagavad gita på svenska.

Kursen är en systematisk studie av denna universella handbok för personlig och kollektiv lycka och harmoni genom djupare förståelse om oss själva och meningen med livet.

Brahmachari Somesh Chaitanya är adopterad från Indien, uppvuxen i Sverige och har sedan flyttat tillbaka till Indien och bott där sedan 2009.
Han är utbildad inom vedanta och har levt som munk i två år. Chinmaya Sverige är en världsomspännande hinduisk andlig och social organisation som han är ansvarig för i Sverige.
Mer information hittar du på: www.chinmayasverige.com

Pris för kursen är 450 kr/person.

Du anmäler dig via mejl eller sms (se nedan).
På plats kan du betala med swish eller kort.

Om du har frågor eller funderingar får du gärna höra av dig till info@vayu.se eller 0722-227212.
---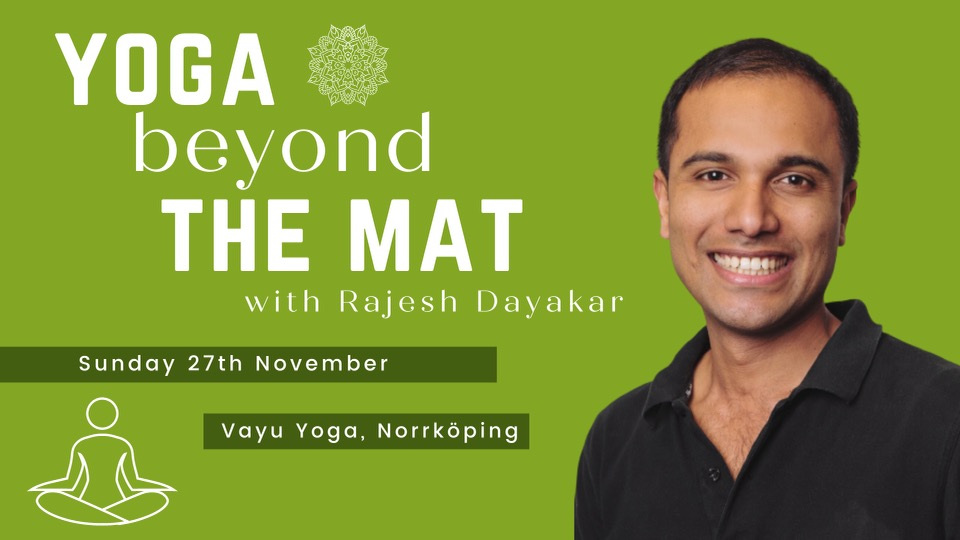 Deepen your understanding of the purpose and benefit of the asanas, pranayama, kriyas and the vedantic philosophy behind the authentic yoga.
Even If you are a yoga teacher of any tradition, regular yoga practitioner or and very beginner into yoga, it is very important to understand the foundation of traditional Hatha Yoga system.
In this workshop we will explore what is Yoga and what is traditional Hatha Yoga as taught in India? How to practice yoga in order to gain it's wonderful benefits. Why is it important to practice Pranayama (the yogic breathing techniques) and Kriyas (the yogic cleansing exercises) and Meditation?
What is the meaning of the sequence of asanas and their subtle physical, mental, and spiritual benefits and how to combined all this together in your day to day practice?
During this workshop we will mix theory and practice, so wear comfortable clothes.
Schedule:
10.30-12.30 Introduction of the traditional Yoga, Hatha Yoga, Ashtanga yoga system,
12.00 – 13.00 Lunch ( we offer a vegan or vegetarian rolls, fruits and tea and the price is included in the
13.00 – 15.30 We go more deep into Asanas, Pranayama, Meditation and Kriyas, We practice the Jala Neti Kriya so you get the Neti pot and it is included in. the workshop price.
15.30 – 17.00 Deep Hatha Yoga asana class.
Price is 800 Sek
About the teacher
Rajesh Dayakar who has been teaching yoga more than 15 years Internationally. Rajesh lives in Linköping last 9 years and some of you might already know him a he been teaching at yogayama Norrköping. To read more about Rajesh please see the website. www.yogashastra.org
For registration or any questions please send an email to
info@yogashastra.org
info@vayu.se